Specialized Section
Data Backup
27.02.2012, 12:40
The company data become and is going to become the most valuable property of firms. They present knowledge, experience, information that allows effective company management and setting future strategies. There is quite a number of risks – hardware failures, hackers and virus effects, fire risk and of course the failure of human element. And especially human factor is actually the highest risk.
What are the reasons of data loss?
Involuntary deleting by user
Failure of an administrator
Error of application or SW (program)
Error of HW
Unperformed backup
Illegibility of backup
Intention (sabotage)
Fire or flood
Organizational chaos
What is the price?
direct loss caused by idle time
loss of human capacities (repeated data acquiring)
loss for undelivered goods/service
loss of competitive strength
existence of firm
Missing Solution of Data Recovery is a Very Expensive Experience
It is exemplified that if a company is not able to restore the business till a certain time, they lose arranged orders, customers and they can even disappear from market. It costs big amount of time, effort and money to gain their original reputation back. That's why it is good to prevent this kind of experience and arrange everything for fast and reliable data recovery.
There are number of mechanisms, which solve data safety and which automate this process. Single hardware and software devices are becoming just a prerequisite for a successful solution. Our job is not only proposition of suitable backup devices like tape backup libraries or disk array kinds of mechanism and proposition of suitable backup software. Our job is the proposition and implementation of bespoke system in virtue of long-time experience of specialists in implementation of those solutions.
What is necessary to take into account while backup scheme designing?
demands on volume of stored data
length of backup window
length of recovery window
predisposition of up-to-date state (LAN and SAN, disk arrays, servers, operating system, databases …)
Conventional Backup Votes for D2T Backup Mode
This mode is an abbreviation of Disc-To-Tape. It used to be a standard; nevertheless it experiences many limitations these days. The main limitation results from the fact that the backup software makes data migrate from the source directly to the tape drive or tape library. Because the tape drive (whatever technology) CANNOT LINEARLY CONFORM TO THE DATA FLOW, it means that it needs a certain minimum data flow to work correctly without shoe-shine effect.  And unfortunately there is a quite number of situations (big amount of small files, distant offices), when the source, infrastructure, servers, backup SW are not able to work so fast to make the account of all options of current backup drivers. Types and generations of backup drivers read here.   
D2D2T as the Backup Mode is the Most Frequent Choice from Safety and Speed Perspective
It is a two-level backup scheme, when the primary backup runs to the disk storage and then clones to the backup tape-based device.  This scheme is called Disk-To-Disk-To-Tape (D2D2T). It solves many disadvantages of the conventional way of backup, significantly cuts the backup window, fullyuses the speed of backup drivers and contributes to duplicity and safety of data. Professional backup SWs fully support this functionality.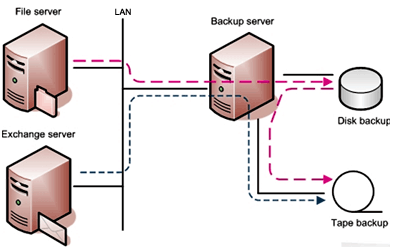 Next Step – Backup on SAN Line
Bigger customers have usually a built-up SAN (Storage Area Network), which disposes of high permeability – up to 8Gbit/s and considering that it works in the block network directly with the storage devices it may be used also for backup. Data are not made migrated on LAN then and do not load it at the expense of other users but they migrate directly on SANs at very high speeds. 
Considering that the technology is also called 'LAN FREE BACKUP' and is always a bit more expensive compared to the conventional technology, it is possible to combine backup methods through LAN (for less demanding applications and data volumes) and SAN (for critical loads). One of the SW supporting all mentioned backup methods is for example product called NetVault by BakBone Company.
Backup Agents
There are always some special backup tasks in the IT infrastructure - for example the backup of databases. Formally they are open files without licence to share by others and it means that you don't backup databases by standard devices.
In practice it is solved by special agents, which manage to backup Exchange, SQL, Oracle, MySQL, Informix, Domino, SharePoint and so on during working state. It significantly simplifies the job of administrator – they can avoid the problematic task of prescript and postscript writing for databases stopping, their backup by native devices and consequent backup by backup SW. A special task for application agents of backup SW is consolidated backup in VMware environment.
Disk or Tape Backup Is Not Enough. Necessity of Disaster Recovery Plan
Disaster Recovery plan is a definition of proceeding to restore IT services after fire, natural disaster or other radical event.  Existence of these in advance well-considered procedures lowers the impacts of unpleasant events on business results of a company but also optimizes the usage of operating firm sources and expending of finance on provision of renewed processes functioning. 
DR plan is closely connected to IT organization and technological infrastructure. That's why the regular update of DR plan and processes tests in a real environment is important. The question of testing of recovery processes during operation with high availability is complicated and inappropriately designed and performed testing can endanger the functioning itself. That's why the procedures of recovery processes testing is an integral part of DR plan as well as the individual team training in order to provide high-professional readiness. 
Definition of Backup Jobs
Definition and backup rotation – types of backup schemes. One of the key elements of every data backup is the definition of the rotating scheme so the protection was guaranteed at least one day back. The best rotating scheme of data carriers is the one, which can guarantee data copies as long, extensive and varied as possible. More information on backup policies read here.