Specialized Section
Server backup via deduplication
01.03.2012, 08:00
Druva solution is an intelligent tool for laptop, desktop and server backup by method of client deduplication. In the following the product PHOENIX is introduced – solution for backup of server environment, data centres and branch offices by method of deduplication.
Druva PHOENIX is an enterprise solution for backup of data centre's server environment by method of deduplication. Conceptually the product PHOENIX for backup of server environment starts from InSync solution, nevertheless the solutions are not identical and PHOENIX is optimized for server environment.
Characteristics of PHOENIX
intended for server OS
advanced backup administration
technology is suitable for backup of branch offices through internet  
strong coding algorithms
continuous data protection
Key characteristics of DRUVA solutions
Deduplication
widely reduces the volume of data transferred through lines
widely reduces the storage necessary for backup of corporate data
thanks to deduplication the needed bandwidth significantly decreases and it is possible to backup also branch offices through internet environment
Continuous Data Protection
Backup is performed according to the schedule at given time period. Thus number of restore points comes up on time axis, which contains up-to-date data.
It is possible to go back to any of restore points and restore the whole system or a single file.
WAN Optimization
Automatically detects the characteristics of connection and modifies the parameters so the bandwidth is used efficiently and does not block user running at the same time.
Highly Scalable and Secure
Solution is widely expendable.
Communication is coded.
Full PC Backup and Bare Metal Restore
is possible to perform complete data backup
on its basis to perform bare metal recovery (including system) in case of complete data loss
Search based recovery
Fast and easy object searching for restoration from backup data repository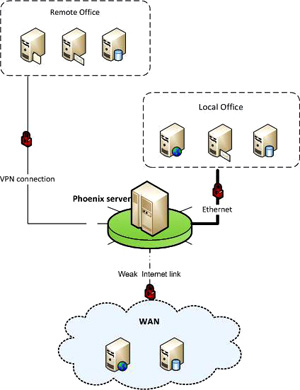 The possibility to use the internet environment for remote offices backup into central storage is in virtue of important characteristics of PHOENIX; especially:
Ability to detect automatically the bandwidth and connection latencies – and to optimally set the communication between control server and clients according to these parameters
Automatically selected size of packets and number of connections for reaching the maximum speed of transfer
256 bit SSL network encryption (Backup server generates unique signed X509 certificate on installation)
256 bit AES data encryption on backup storage
Wide extensibility (up to 100 production servers)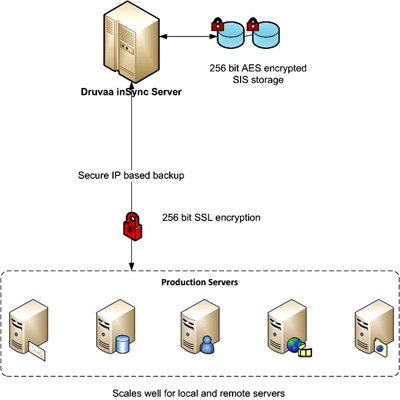 Comparing to conventional backup technology (Druva versus CA ArcServe):

Road Map of PHOENIX product development:
Phoenix 1.0 (Dec 2009)
Data Deduplication enables backup
Generic Application/File-server agents
Windows only, BMR, search, WAN Optimization
Phoenix 1.2 (Mar 2010)
Advanced Dashboard & Reporting
Media-Sync for 1stBackup
Phoenix 2.0 (May 2010)
Exchange/SQL/Share-point Agents
 Linux Agents
Phoenix 2.2 (No date set)
Long Distance Many-One Replication
ILM –Information Lifecycle Management