Specialized Section
Tape Data Devices: Revolution Called Barium Ferrite
11.12.2015, 17:28
Why does quality of different brands of media vary? The level of SNR (signal-to-noise ratio) is the key criterion for appraisal of LTO tapes. The news of industrial process is that Fujifilm (even though they are the leader of LTO devices produce with more than 50% of market share) holds the view, that so-far used technology of MP (Metal Particle) for the manufacturing of LTO5 devices is no longer the ideal technology for the produce of new generation of LTO devices.
In the area of LTO the producers constantly adjust themselves to the requests of market and pressure on periodic increasing of capacity and speed of LTO drivers. That sets great demands on magnetic material of the tape. A way to raise recording density is gaining as small magnetic grain as possible.
So-far use technologies were based on using of metallic layer (MP). But it has its physical limits and it just does not keep up with the new generations of backup drivers. A time has come to develop whole new recording materials. The new technology designed for LTO 6 tapes is used in the production of tapes of Enterprise category as 3592 or T10 000 and it is called BaFe (Barium Ferrite). The BaFe technology compared to MP offers elementary advantages:
Magnetic material BaFe provides higher surface density of recording and so it opens up to tens of TB per device.
The record works with substantially higher density of magnetic field. That improves readability of data among others. The record is more stable and compared to MP it does not self-degrade in time.  
LOWER ERROR RATE IN TIME AND MINIMALIZATION OF DATA LOSS RISK
Almost all technical progresses of BaFe technology intend to raise record reliability and improve data safety. The BaFe particles are much smaller than usual MP particles. More magnetic particles fall on one stored bit and that means higher level of signal and also reliability.
Natural demagnetization of BaFe cells in time represents lower risk. The grains are finer, there are more of them and autonomic loss of magnetism of an individual magnetic grain does not have an essential impact on the quality of stored information.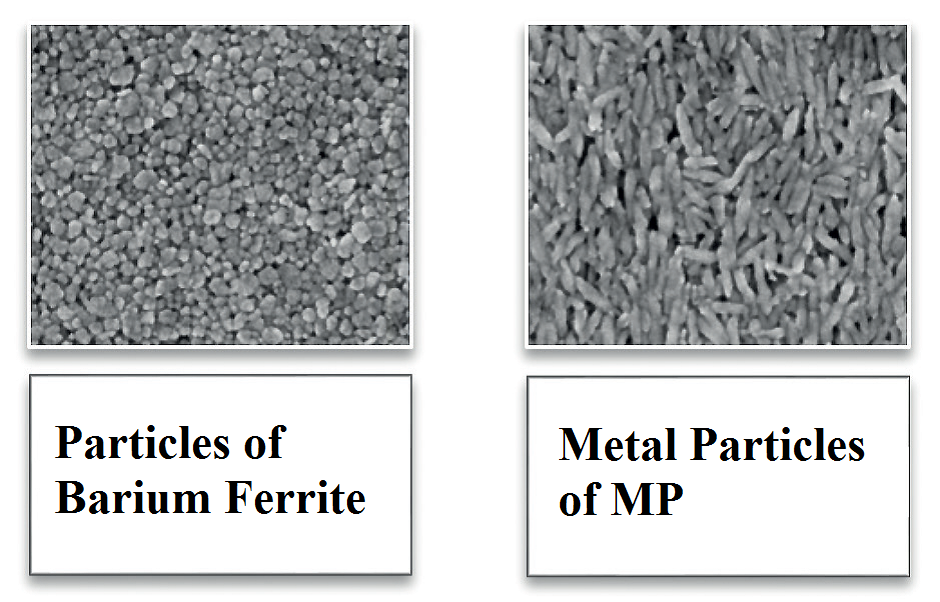 POLARIZATION OF BAFE AND MP TECHNOLOGIES
Vertical polarization of BaFe particles is more resistant to the signs of natural demagnetization that appear while using MP particles which are polarized horizontally.

Because the BaFe compound is an oxide, no record degradation by oxidation appears.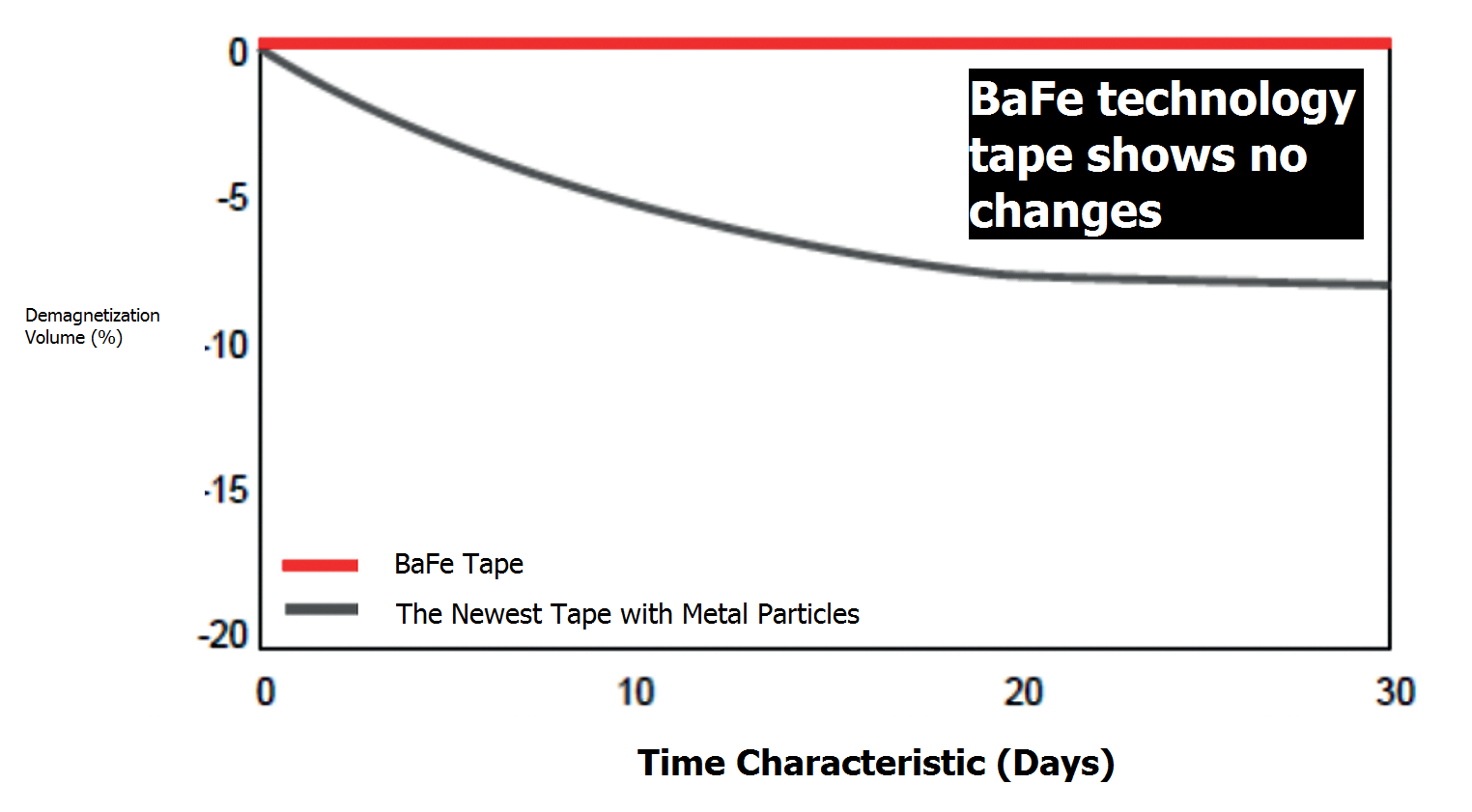 WHAT HAPPENS WHEN A PARTICLE OXIDIZES?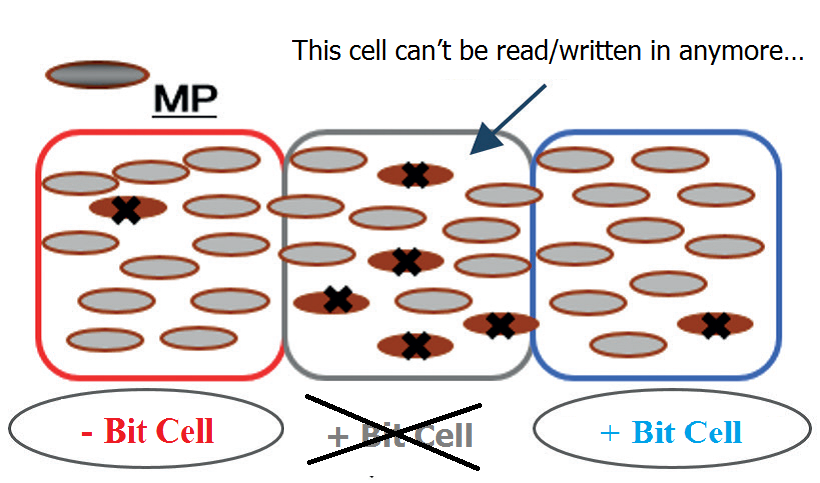 During the so-far used technology of metallic particles (MP) a natural record degradation appears. The MP technology consists primarily of iron (Fe), which means that after some time it oxidizes and its magnetic nature debases. Because barium ferrite is an oxide itself, its nature does not degrade with oxidation.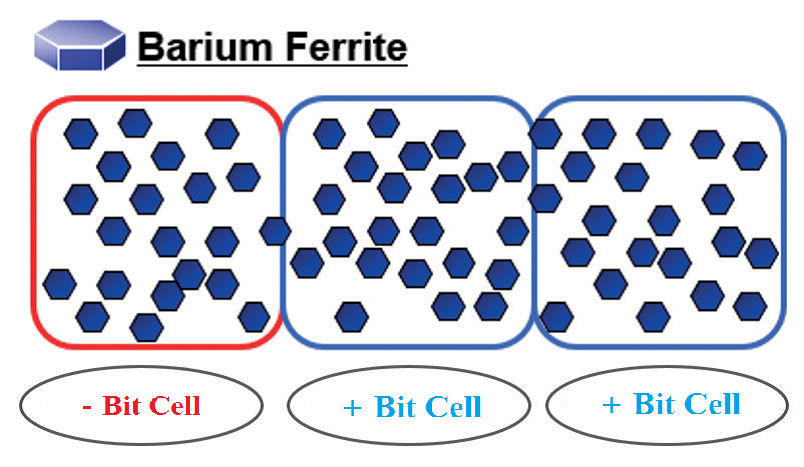 Thanks to a stronger signal of BaFe material a more reliable reading of information is possible including LTO drivers where the magnetic heads wear is at the end of their service lives. When comparing the development of error rate it holds that the more we get near the end of driver service life, the bigger advantage of BaFe technology shows.
HIGH TRANSFER SPEED FOR TIME SAVING
The particles of barium ferrite contribute to the speed of data transfer. The vertical polarization and strong magnetic characteristics improves readability. It means essentially lower rate of problematic data blocks because of which the driver needs to stop, go back and try to reread this block again. It effectively prevents from shoeshine effect. 
MORE STABLE RECORD
The particles of barium ferrite applied on the tape while using Nanocubic technology of company Fujifilm provide, that the surface of LTO 6 tapes is smoother. Thanks to a better contact of magnetic head with the tape surface the signal stays on a consistent level and the record is more stable. Less smooth surface of older metallic tapes (MP) can cause ups and downs of signal level. Higher friction causes gentle oscillation of the tape and pulling of ambient air into the space between tape and magnetic head.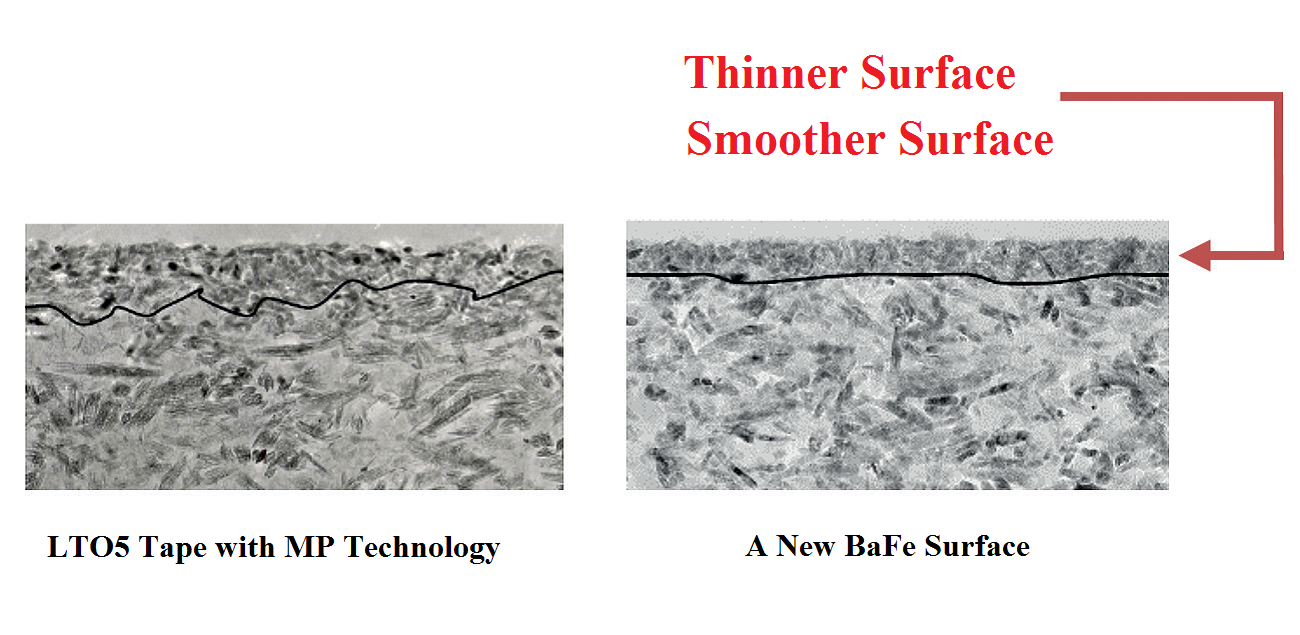 WHAT IS SHOESHINING?
The title pertinently corresponds with the actual process which takes place during shoeshine effect. It is a situation when LTO driver needs to rewind the tape back and forth. This is usually caused by two reasons:
-    The driver is repeatedly trying to read the block.
-    Server is not able to "supply" the driver with adequate speed and it needs to stop, wait till the buffer storage fills up, go back, synchronize and record another piece of entry.
Beside the fact that this way of work has an essential impact on driver's service life, the transfer speeds drop down from hundreds to units of MB/s.
Imperfect contact between a tape surface and the head negatively influences the record quality.   
DIAGNOSTICS OF LTO MEDIA
Every LTO device has got an integrated Cartridge Memory Chip (CM), in which the history of a particular device using and diagnostic information are stored.
Recording and possible reading of that information runs wirelessly. It is a technology resulting from RFID.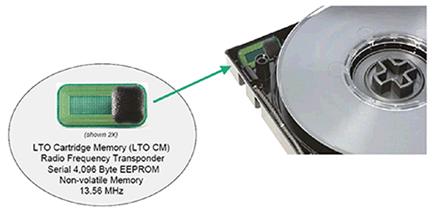 DC ANALYZER
3S.cz company has a professional diagnostic Hardware and Software of FujiFilm company. Within couple of seconds the Data Cartridge Analyzer reads the information from diagnostic CM chip and also the barcode of the particular device.
Diagnostic SW creates a database of "health condition" of the devices, where you can find statistics like when and in which drivers the device was used, how much data was transferred, defected blocks, repeated readings and records and a lot of other information.

Afterwards the software analyses whether the device is suitable for further using or if the condition represents a risk for stored data.
If you doubt about the condition of your devices, do not wait and turn to 3S.cz company where you can get a clear answer by professional diagnostics.